A unique catalog of suppliers of fresh fruit, vegetables and flowers.
It is from suppliers to buyers from 200 retail chains from Europe and 400 Fresh Market participants (producers, suppliers, distributors). The best way to promote your company among key clients like retail chains. Other branch magazines often reach random people when we focus on a specialized target.

Edition 2021/2022

or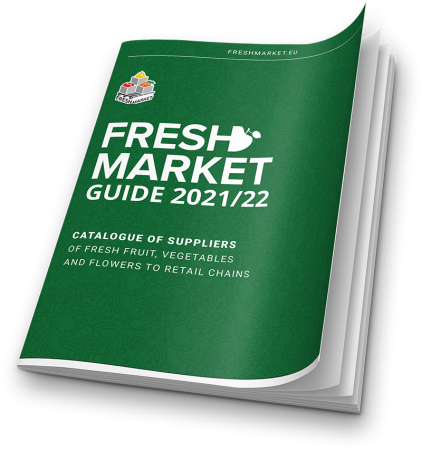 Retail chains with which we are in contact
Fresh Market is in contact with buyers of fresh fruit, vegetables and flowers from well-known retail chains in Poland and Europe.
retail chain has participated in the Fresh Market events
retail chain has not participated in the Fresh Market events
We have been connecting producers, suppliers, buyers and importers from the fruits, vegetables and flowers market for over 14 years.
+12
editions of the conference
+800 000
fresh-market.pl readers
We operate in the domestic and foreign markets, organizing industry conferences and modern online meetings. Furthermore, we support companies to enter the European market offering complex individual service and assistance. We are the owner of the Fresh-Market.pl news service and the application for submitting offers/inquiries (freshka.eu) as well as we are the publisher of an industry catalog of fresh fruit and vegetable suppliers - Fresh Market Guide.
---
For the last 12 years, Fresh Market has been organizing meetings of suppliers and buyers of fresh fruit, vegetables and flowers. They have
Last week on 1st and 2nd October the first remote B2B Fresh Market 2020 meetings were held this year. This two-day meeting session was closed and
Green Polska - Polish importer of vegetables and fruit. It has been operating since 1996. Their strongest directions are Spain and Italy (apart